---
Spring 2022 Workshops
---
Bobcat Summer STEM Internship Informational Workshop
Are you passionate about a STEM field? Interested in learning how to become an instructor for our Bobcat Summer STEM Academy? Come to our informational session January 25th from 12-1pm in SRE 201 to ask all of your questions and learn more! This is a PAID internship opportunity for Spring-Summer 2022.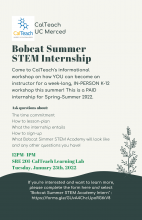 If you are interested in this internship, please complete the form here: https://forms.gle/GUvA4ChcUpoRGtkV8
Learn more about Bobcat Summer STEM Academy here.
---
Past Workshops
---
CalTeach Minors Workshop 
Come to our workshop on December 1st, 2021 from 1pm to 2pm in the CalTeach Learning Lab located in SRE 201
What this workshop will cover:
Introduction to CalTeach and the two minors we offer 
Brief overview of the required courses and potential pathway options for obtaining your credential with our partnerhsip programs 
Information on how to add the minor and set up advising appointment 
Discussion on commonly asked questions in regards to the two minors and the CalTeach program in general 
The date for this workshop has passed. Please come by the CalTeach office in S&E1 270 if you would like to learn more about our minors!
---
What is CalTeach? Introduction to CalTeach and NSED 23/33
Come to our workshop to get a brief overview of our two education minors at UC Merced.
What this workshop will cover:
How students interested in teaching K-12 can get a headstart on their teaching credential courses as undergraduate students.

Introduce our two teaching courses (NSED 23/24 and NSED 33/34), which give students an opportunity to go into local classrooms and complete fieldwork hours

What fieldwork is, why it is so important, and how returning to in-person fieldwork will look like
*This is a great workshop for FIRST-year students or students wanting to pursue a career in teaching*
This workshop date has passed. If you have any questions, please email us at calteach@ucmerced.edu 
---
Fresno Pacific University Office Hours
Fresno Pacific University will be hosting office hours for any questions you have or if you want to learn more about FPU! Click here to learn more information. 
---
Didn't Find What You're Looking For?
Watch our recorded Zoom workshops on our YouTube channel here.
We have recorded workshops on the following topics:
CBEST vs CSET Exams
CalTeach Minors
How to Become a Teacher
California Credential Programs
and much more!