NSEC minor (joint credential program with UC Berkeley)
Students in STEM (Biology, Applied Mathematics, Engineering, etc) are able to complete both their Bachelor's degree from UC Merced and a single-subject teaching credential in science or math from UC Berkeley. Click here for more information or email calteach@ucmerced.edu!
---
NSED minor
Students in ANY minor are able to complete their Bachelor's degree from UC Merced and go straight into a credential program after graduation. We have two partnerships but the minor will allow students to get into most credential programs. 
---
UC Merced Extension Teacher Preparation Program
Working as a cohort, you can obtain a credential in one year through full-time study combined with fieldwork. UC Merced Extension Teaching Preparation offers both Multiple and Single Subject credential tracks. 
Complete the NSED minor as an undergrad at UC Merced and save up to $5,400 off your tuition!
Click here for more information or email teacherprep@ucmerced.edu
---
Central Valley Teacher Preparation Partnership- Fresno Pacific University (FPU)
UC Merced undergraduate students can have a reduced time to complete their single or multiple subject teaching credential if they complete the NSED minor. Candidates can then complete an additional 12 units of post-credential coursework to earn an M.A. in Teaching.
FPU will be having Virtual Office Hours through Zoom this Spring 2021 Semester!
These office hours are designed for you to ask any questions you may have about FPU's masters and teaching credential programs including their partnership with CalTeach for those in the NSED minor. The events will be hosted by Jessica Gutierrez, the Assistant Director for Outreach and Recruitment for Fresno Pacific!
The dates will be as followed: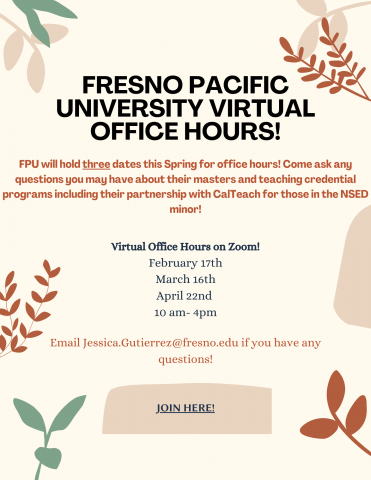 February 17th from 10 am- 4 pm.
 March 16th from 10 am- 4 pm.
April 22nd from 10 am- 4 pm.
Click here to register!
Email Jessica Gutierrez at Jessica.Gutierrez@fresno.edu
 if you have any questions!
---
Other Teaching Credential Programs
There are other teaching credential programs available that include online, private, and public options. Many of the courses under the NSED minor apply to those credential programs.
If you need assistance in looking through other teaching credential options, feel free to come by the CalTeach office (located in SE1, room 270) or email us at calteach@ucmerced.edu