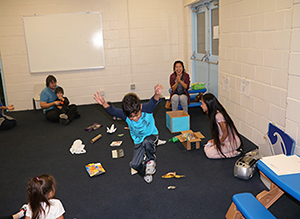 CalTeach Early Childhood Education Internship Program
Sponsored and hosted by the Merced County of Education (MCOE) the Caring Kids Playgroup is an informal playgroup for children of Merced County. The playgroup meets every Tuesday from 10am-11:30 am, and 12:30pm-2pm.
Every semester, CalTeach looks for six dedicated interns to create and teach science and math-based lessons for the Caring Kids playgroup. This is an unpaid internship opportunity. However, it is a highly valuable experience for undergraduate students interested in teaching in early childhood (Pre-K through 5) after UC Merced.
Requirements include:
Strong leadership skills
Available to commit to weekly meetings with their intern teams
Available to commit to at least one of the playgroup sessions: 9am-11am or 12pm-3pm
Brief statement of interest explaining your interest in the program
Spring 2017 internship positions have been filled, but that does not mean we do not have an opportunity for you! 
If you are interested, please contact us at calteach@ucmerced.edu. We are always looking for new interns and ways to get our students involved in the community.